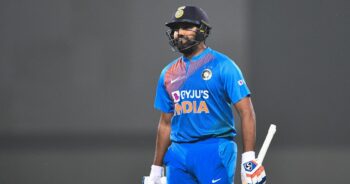 Indian skipper Rohit Sharma revealed crucial reasons why Kuldeep Yadav was dropped from the first two ODI games against Australia. Rohit Sharma said that the team does not want to expose Kuldeep Yadav to opponents ahead of the ICC World Cup 2023. However, Rohit Sharma also listed multiple reasons for resting Kuldeep Yadav in the series.
Kuldeep Yadav is only part of IND vs AUS 3rd ODI and has been rested for the opening two games. Recently, the left-arm spinner gave an impeccable performance in Asia Cup 2023. He hunted 9 wickets at an average of 11.44 and an economy of 3.61.
Also Read: IND vs SL: "Credit goes To Rohit Bhai, He Encouraged Me To…" – Kuldeep Yadav After Winning Player Of The Tournament In Asia Cup
Kuldeep Yadav Is A Rhythm Bowler: Rohit Sharma
During the post-match presentation, Rohit Sharma said that they want to give opportunities to players in the IND vs AUS series who are part of the ICC World Cup 2023 but did not get enough chances to play in Asia Cup 2023.
"Kuldeep is a rhythm bowler, we all know that. But we thought of a lot of things and took this call. His bowling is going well, like Ajit [Agarkar] said, we had to give players a chance, especially those who played just one game at the Asia Cup and are in the World Cup squad," Indian skipper Rohit Sharma said.
Also Read: IND vs SL: Watch – Kuldeep Yadav Suffers Nasty Blow On Face, Survives Injury Scare Before Asia Cup 2023 Final
We Don't Want To Expose Kuldeep Yadav A Lot: Rohit Sharma
Sharma also added that the team does not want to expose Kuldeep Yadav a lot to opponents ahead of the ICC World Cup 2023.
"We have been looking at Kuldeep for the last one, one and a half years. That is why we don't want to expose him a lot. He is coming back for the last match. There are a lot of reasons.

This is the best decision for us, to have him sit out for two games and play the third. We also have two practice matches [before the World Cup opener], so for the bowling rhythm, he will be back in it," Rohit Sharma further added.
Also Read: IND vs SL: Kuldeep Yadav Can Make A Huge Difference: Sunil Gavaskar Lavishes Praise On Indian Chinaman
Since the start of 2023, Kuldeep Yadav has been in fabulous form in ODIs. The left-arm orthodox spinner has hunted 31 wickets in 16 ODIs in 2023 averaging 15.51 and leaking runs at an economy of 4.53.
He is also the highest wicket-taker for India in ODIs this year. After his impeccable performance, he was picked over Yuzvendra Chahal for ICC World Cup 2023. During the Asia Cup 2023, Yadav hunted a 5-wicket haul against Pakistan and a 4-wicket haul against Sri Lanka.
The post IND vs AUS: Rohit Sharma Reveals Why Kuldeep Yadav Is Dropped From Two ODI Games appeared first on CricketAddictor.
This report is auto-generated from original news agencies. ANewswire holds no responsibility for its content.