If saving money were easy, everyone you know would have thousands in their bank accounts, extra real estate, vehicles, and more. Yet they don't. As many as 56% of Americans don't even have $1,000 in their savings account – and no, it's not because they eat too much avocado toast. 
If you want to increase your savings, it helps to know about the most effective saving methods, tricks, tips, and strategies. You just might find them in one of these books.  
---
By Sarah-Catherine Gutierrez
"But First, Save 10: The One Simple Money Move That Will Change Your Life" is one of the simplest books on personal finances you'll ever read. Every complicated financial term and concept is so plainly explained that by the end of the book, you'll feel like an expert financial manager.
Though it's generally geared toward younger women, the book offers nuggets of advice for people of all ages, genders, interests, and lifestyles. Anyone who wants to increase their savings can learn quite a bit from it.
Some of the main concepts covered in "But First, Save 10" include using financial automation tools, paying down debt, creating and funding your emergency fund, and saving/investing toward retirement. The focus is on helping you establish a sustainable routine that allows you to achieve financial freedom.
✍️ About the author: "But First, Save 10" was written by Sarah-Catherine Gutierrez, also known as Ladysplaining Money. She's a professional speaker, writer, and founder of Aptus Financial, a financial planning company in Arkansas. She's also one of the co-founders of SAVE10, an organization aiming to help women reach financial independence.
---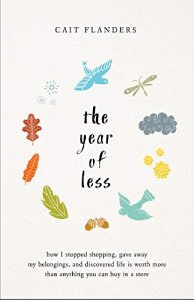 By Cait Flanders
"The Year of Less," (the full title is "The Year of Less: How I Stopped Shopping, Gave Away My Belongings, and Discovered Life Is Worth More Than Anything You Can Buy in a Store") was one of Wall Street Journal's best-sellers upon its release in 2018. 
As you can guess from its full title, the book is aimed at all those young adults who looked to Carrie Bradshaw from "Sex and the City" for financial advice. 
The author, Cait Flanders, wrote the book based on personal experience. After a period of being virtually addicted to shopping and wasting money on unnecessary items, she decided to turn her life around. She developed an interest in the zero-waste movement and started spending money only on essentials. 
The book documents her journey from excessive consumerism to smart spending, offering insightful advice on how you can do the same. 
Though Cait's approach might be extreme, it exemplifies just how easy it is to give in to your whims and waste money and just how much of a difference you can make if you rein yourself in. 
✍️ About the author: "The Year of Less" was written by Cait Flanders in 2018. Flanders spent her early 20s working for the Ministry of Education in Canada, writing speeches and press releases. She's worked as a writer at the Globe and Mail and manages a successful personal finance blog, "Blonde on a Budget". 
She's found success with her first book, "The Year of Less," and has published another one in 2020, "Adventures in Opting out." 
---
By Chelsea Fagan and Lauren Ver Hage
"The Financial Diet" could be your perfect book if you're not very financially savvy or not interested in personal finances at all.
It's a beginner-friendly personal finance book that offers tips and tricks to help you get out of debt, adjust your spending, and increase your savings even when you're living paycheck-to-paycheck.
It offers a little bit of everything: advice on how you can create your budget, how to invest, and how to make your home more budget-friendly. You'll even find tips on how to talk about uncomfortable topics such as finances and personal budgets with your close ones.
It's a unique book that makes for surprisingly light reading.
✍️ About the authors: "The Financial Diet" was written by Chelsea Fagan and Lauren Ver Hage. The two founded one of the most popular financial YouTube channels, also named "The Financial Diet."
Before starting the channel, Chelsea was a writer for several publications, including Vice, Cosmopolitan, and the Atlantic. She's the author of another popular book, "I'm Only Here for the WiFi."
Lauren is an art director with previous experience working for advertising agencies and Nickelodeon. She created illustrations for "The Financial Diet" book and continues to work alongside Chelsea on their YouTube channel.
Read key ideas on Blinkist →
---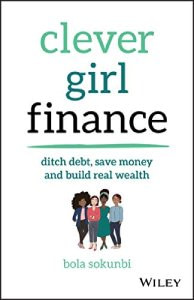 By Bola Sokunbi
"Clever Girl Finance" has everything you need to get the right start on your financial journey. The book teaches you how to keep an eye on your expenses and build a workable budget. It offers solid tips on how to make the most out of your finances, even when you have less than a modest salary.
You'll learn how to use credit without getting yourself into unmanageable debt, start lucrative side hustles, and make smart investments. Perhaps most importantly, you'll learn how to change your mindset and start thriving.
It's a highly insightful book that's not reserved solely for the clever girls out there, despite what the title may imply. Even though the book is filled with real-life stories of dozens of women who've achieved financial independence, the stories offer value to men and women alike.
✍️ About the author: "Clever Girl Finance" was written by Bola Sokunbi, a professional speaker, author, and certified financial education instructor. Bola has no less than four best-selling titles under her name, but "Clever Girl Finance" isn't just the title of her latest book. It's the name of one of the biggest personal finance platforms designed for women, founded by Bola herself.
Through the book and the website, Bola shares her biggest financial mistakes and how she's overcome them. She helps you understand that making mistakes isn't the end of the world. You can still succeed as long as you turn mistakes into learning experiences.
Read key ideas on Blinkist →
---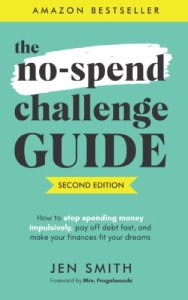 By Jen Smith
"The No-Spend Challenge Guide" shares some conceptual similarities with "The Year of Less." Both books aim to help you spend less money on unnecessary things. The approaches, however, are vastly different.
"The Year of Less" offers goals that may be somewhat extreme and unattainable for the average person. After all, not everyone can just start buying and paying for the absolute necessities and nothing else. "The No-Spend Challenge Guide" is more realistic.
It teaches you how to control and understand your shopping impulses, not ignore them altogether. It helps you learn how to create a workable budget and actually stick to it.
Some key takeaways include understanding why budgeting alone isn't enough and how you can improve your financial planning and debt management and save on some of your biggest financial obligations. You'll even get some excellent insight into how you can make your life more enjoyable without spending any money.
✍️ About the author: "The No-Spend Challenge Guide" is a practical personal finances book written by Jen Smith. She was the average young adult with no job and a massive debt of $78,000. Still, she managed to get a hold of her finances, pay off her debts, and start living life to the fullest.
Jen founded the website Modern Frugality, previously known as Saving with Spunk, where she provides additional tips and tricks that help you save more, spend less, and pay off debt.
---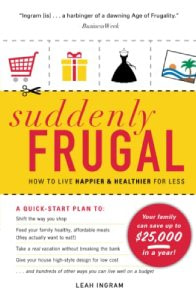 By Leah Ingram
"Suddenly Frugal" is a detailed guide to living a happier, more fulfilling life while sticking to a tight budget. It's filled with countless pieces of advice that are easy to follow, practical, and unique.
While everyone tends to talk about saving money through "vacationing less" or "buying fewer avocado toasts," "Suddenly Frugal" goes into all the big and small things you could do to increase your savings, from switching to reusable microfiber rags instead of paper towels to choosing the right appliances and making your home more budget-friendly.
The book claims to be able to help you increase your savings by as much as $25,000 a year, though that's only true if your current lifestyle is very extravagant. Still, with all the tips and tricks in the book, you can certainly expect to save more than you'd imagined.
✍️ About the author: "Suddenly Frugal" was written by Leah Ingram, a health, lifestyle, and financial author. She's written for publications such as Parade and Good Housekeeping, and she runs her own blog "Leah Ingram," previously known as "Suddenly Frugal."
On the blog, she shares countless pieces of advice, tips, and stories regarding finances, health, shopping, and more.
---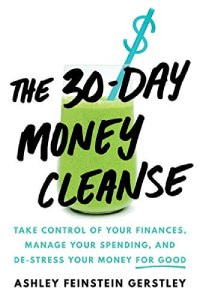 By Ashley Feinstein Gerstley
"The 30-Day Money Cleanse" is an insightful money management guide that helps keep you accountable with your finances. Unlike many books in the personal finance category, this isn't a simple list of the major do's and don'ts of spending and saving. It's a comprehensive guide that helps you build a healthier relationship with money.
The book is designed to help you identify and eliminate your major money-related stressors, overcome your bad spending habits, and understand precisely where your money is going. Dispersed throughout, you'll also find the basics of investing and how you can get started with it. It also has unique prompts that help keep you on the right track.
✍️ About the author: "The 30-Day Money Cleanse" was written by Ashley Feinstein Gerstley, a renowned author and entrepreneur. She's obtained a Bachelor's in Finance and has dedicated her life to helping others achieve financial independence.
She founded "The Fiscal Femme," an anti-racist organization focused on dismantling systemic racism. The organization's core belief is that achieving financial well-being is only possible with true equality.
---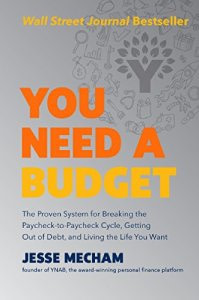 By Jesse Mecham
"You Need a Budget" is just what the title implies: a book explaining how critical it is to develop and stick to a reasonable budget. The book focuses on four simple rules of budgeting.
The first one is that you need to give every dollar you earn a job. You must know exactly where you will spend your money and why before you've actually spent it. That will keep you accountable and help you avoid unnecessary expenses.
The second rule is that you must break up larger expenses into more manageable ones. It's much easier to cover hefty expenses such as vacations when you prepare in advance and start setting money aside long before you need it.
Rule number three is that you need to be flexible with your budget. Circumstances can change: you might lose your job or get a promotion, for instance. Whatever the case is, your old budget won't work if your situation changes, so you'll need to keep it adaptable.
Finally, you'll want to focus on aging your money. By following the rules mentioned above, you'll eventually increase the amount of time between you earning money and spending it. Ultimately, you'll be able to get out of living paycheck-to-paycheck.
✍️ About the author: "You Need a Budget" was written by Jesse Mecham, who developed the four budgeting rules after discovering how valuable the principles were for him and his wife.
Besides writing the book "You Need a Budget," Jesse also developed a comprehensive "YNAB" platform, one of the most popular financial finance software products for those trying to be smarter with their money.
---
By Dave Ramsey
"The Total Money Makeover" is an energizing, inspirational book that explains just how easy budgeting can be when you have a bit of guidance.
It offers actionable steps and simple advice that can quickly turn your financial life around. You'll get the information you need to develop a working budget and pay off debt, regardless of how much you have.
The book will teach you how to create a safety net to help you cover emergencies. You'll get the inside scoop on some of the most widespread money myths and learn just how dangerous they are and why.
Though the book was published almost a decade ago, much of the advice still works and can prove surprisingly useful.
✍️ About the author: "The Total Money Makeover" was written by Dave Ramsey from the Ramsey Show. Ramsey is a radio talk show host, an expert on personal finances, and the founder of Ramsey Solutions, a platform designed to empower and educate you on all things related to finances.
Read key ideas on Blinkist →
---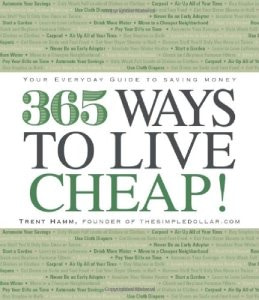 By Trent Hamm
"365 Ways to Live Cheap" is unlike anything you've read before. It's not a get-rich-quick scheme or an investment plan that requires wealth to build wealth. It's a simple, straightforward guide to all the small things you can do to make a big difference in your bank account.
You'll find all kinds of great tips, from using cold water to wash your clothes to save a couple of dozen a year to seamlessly reducing your gas mileage and saving with your groceries. There are even pieces of advice on how you can save on insurance, like going straight for the insurance company and avoiding dealing with agents.
The book doesn't simply list 365 ways you can save. It offers valuable philosophies, rules to follow, and strategies that can add to your savings in virtually no time at all.
✍️ About the author: "365 Ways to Live Cheap" was written by Trent Hamm, an author and entrepreneur. Trent founded the Simple Dollar website, a valuable educational resource on important financial matters.
---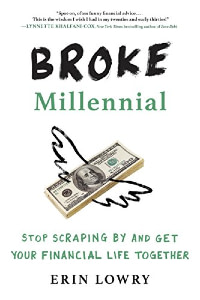 By Erin Lowry
"Broke Millennial" is a simultaneously hilarious and surprisingly realistic book on improving your financial circumstances. You'll find countless real-life stories from broke millennials, analyze and understand their financial mistakes, and learn how they overcame their struggles.
As the title suggests, the book is designed for all those broke millennials struggling to grasp financial topics and frightened of all the financial responsibilities they've had to take on.
You'll find out how to best manage your debts and improve your relationship with money. You'll even learn how to handle tough financial situations, such as dealing with going Dutch when you can barely afford the cost of your humble meal at a restaurant.
✍️ About the author: "Broke Millennial" was the first book written by Erin Lowry. It was named the best personal finance book in 2017 by Business Insider. Its astonishing success has prompted Erin to publish a full "Broke Millennial" series, which includes titles "Broke Millennial," "Broke Millennial Takes on Investing," and "Broke Millennial Talks Money: Scripts, Stories, and Advice to Navigate Awkward Financial Conversations."
Read key ideas on Blinkist →
---
By Anna Newell Jones
"The Spender's Guide to Debt-Free Living" says it all in the title. It's a book dedicated to every shopaholic person who needs to get their spending under control and eliminate debt as soon as possible.
The book was inspired by the author's own experiences. Self-defined as a big spender, Anna used to live in the shadow of her suffocating debt. She was struggling to make ends meet and cover all her expenses, so she decided that enough was enough.
Anna developed her own budgeting method, which proved to be more than effective. She became debt-free in a little over a year, and her book could help you do the same.
Some of the key concepts you'll learn with the book include creating your own debt-free pledge, identifying additional income sources, and spending wisely while remaining without debt.
✍️ About the author: Anna Newell Jones is the author behind "The Spender's Guide to Debt-Free Living." She's a real estate agent and an author who mostly writes about personal finances. She's best known as the co-host of a popular podcast titled "Less Alone: A Podcast About Connection." She runs the blog "And Then We Saved," sharing the best money-saving methods.
---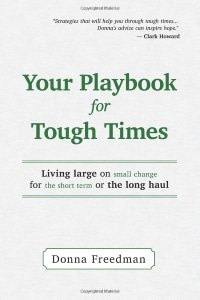 By Donna Freedman
"Your Playbook for Tough Times" could be one of the best reads for those trying to live below their means, anticipating tough financial circumstances, or hoping to achieve their dreams without getting into unnecessary debt.
The book reads almost like a manual, giving you guidelines you'll want to follow if you want to overcome financial hardships.
Some of the essential tips mentioned in the book include how to live frugally even when you don't have to, how to enjoy life without overspending, and how to start with a "financial fire drill" as a step toward creating a proper budget.
✍️ About the author: "Your Playbook for Tough Times" was written by Donna Freedman, a renowned author who used to write for publications such as Anchorage Daily News and who's recently started contributing to The Balance.
She's published several successful books so far, including "Your Playbook for Tough Times," "Your Playbook for Tough Times, Vol. 2", "City Smart: Anchorage," and "Anchorage."
---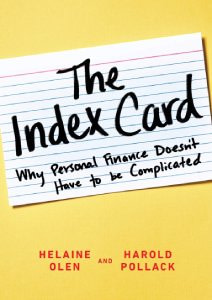 By Helaine Olen and Harold Pollack
"The Index Card" is one of the few books that shows that personal finances don't have to be confusing, complicated, and overwhelming.
You don't have to devote your life to trying to decipher finances and economics. You just have to follow a few simple rules. And you'll find those rules right in "The Index Card."
Written in plain, easy-to-understand language, the book goes over the key principles of personal finances: paying off your credit card balance each month, maxing your 401K, saving 20% of your monthly income, and more.
✍️ About the authors: "The Index Card" is a joint effort of Helaine Olen and Harold Pollack. Helaine is a well-respected financial journalist who worked for publications such as Slate and Washington Post. Harold, on the other hand, is a professor at the University of Chicago.
They came about writing "The Index Card" after Harold interviewed Helaine and stated that everything you should know about personal finances could fit on a single index card. To prove the point, they wrote this best-selling book.
Read key ideas on Blinkist →
---
By Steve and Annette Economides
"Cut Your Grocery Bill in Half with America's Cheapest Family" might sound infuriating to those who felt called out by the countless "experts" telling the millennials to stop eating avocado toast if they want to afford a home. However, this book is doing everything but trying to call you out for enjoying the small things in life.
It's trying to teach you how to save thousands a year on groceries by making smarter shopping, prepping, and cooking decisions.
The book offers countless ways to max out your savings on groceries, whether you're feeding a family of one or a family of 10.
✍️ About the authors: The authors of "Cut Your Grocery Bill in Half with America's Cheapest Family" are Steve and Annette Economides. Steve worked as a graphic designer while Annette was a stay-at-home mom, and for years they struggled to make ends meet.
Getting tired of barely scraping by with $35,000 a year, they developed a plan for success. Their money-saving strategies have afforded them their first home, new cars, and debt-free vacations. They even managed to put their kids through college without accruing debt.
---
Final Thoughts
Regardless of your age, gender, background, and interests, managing personal finances is something you must master to save money and lead a more carefree lifestyle.
Though it might seem that increasing your savings is only possible if you get a great-paying job out of the blue or suddenly win the lottery, it's achievable even if you're currently living paycheck-to-paycheck.
The books on this list are just some of the top titles in the sphere of personal finances, offering you thousands of pieces of advice that could change your life around. You don't have to heed the exact advice from every single book, nor stick to a single money-saving strategy.
Personal finances are just that – personal. Therefore, it's in your best interest to gather inspiration from at least a few of these books, then sift through all the tips, tricks, and strategies and choose those that work for you.